Thanks for joining me in today's webinar,
Leading Change from a New Paradigm: Introducing Conscious Change Leadership
I hope you found today's session helpful. Knowing how to make the paradigm shifts necessary to evolve leadership mindset to see beyond the limitations of conventional approaches will help you confidently and successfully lead disruptive change and transformation. 
To continue your learning, please see the related resources I've curated for you below, including a copy of today's slide deck.
If you're ready to take your change leadership skills to the next level, consider enrolling in the upcoming online course I am co-instructing: Leading Transformational Change: 10 Strategies for Achieving Breakthrough.
Use the coupon code: ACMP2021 to receive a total of 20% ($690 savings) off the regular tuition as a thank you for attending today. This coupon will provide you with an extra 5% off the 15% early-bird special. This offer is good through June 15.
I hope to see you there!
BUILDING CHANGE CAPABILITY
Leading Change as a Strategic Discipline
Strong change capability is vital to organizational success. The evidence is clear that we need to be better at leading and delivering on change. This white paper explores how to build your organization's change capability through leading change as a strategic organizational discipline.
AWAKE AT THE WHEEL
Moving Beyond Change Management to Conscious Change Leadership
Discover what you need to become a successful executive change leader, and why change management is insufficient to support transformational change.This eBooks explores the skills and methods necessary to achieve breakthrough in business results, culture and leadership in all your complex organizational change efforts.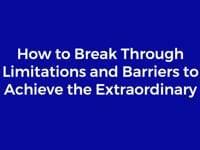 How to Break Through Limitations and Barriers to Achieve the Extraordinary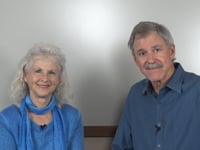 How You Can Achieve Breakthrough Results through Transformation​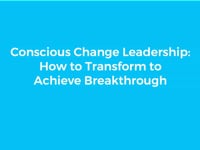 How to Transform to Achieve Breakthrough
This coupon will provide you with an extra 5% off the 15% early-bird special. Offer good through June 15.
This online instructor-led course will enable you to deliver desired results from the complex change initiatives you lead or consult to. It supports corporate leaders, community leaders, activists, and all varieties of change consultants.
You'll finish this course knowing the most important next steps to take for your transformational change effort to succeed.
Here are all the resources I mentioned during today's session. 
Download a copy of today's slide deck.
Download eBook:
SELECTING THE BEST CHANGE PROCESS LEADER To Oversee Your Transformation
How Visionary Leaders Solve Strategic Challenges through Conscious Change Leadership
Leaders must break free of traditional thinking because conventional mindsets and approaches to transformation are not sufficient in today's 21st Century VUCA environment, where volatility, uncertainty, complexity and ambiguity reign. This webinar explores how visionary leaders navigate complexity and solve big strategic challenges to achieve breakthrough results through Conscious Change Leadership.
Instructor: Dr. Dean Anderson
FROM THE BREAKTHROUGH BLOG
Subscribe to the Breakthrough Blog