4Sight is a profound personal and professional development opportunity.
Up-level your career to become sought after as a transformational advisor to senior leaders
Learn how to confidently design and implement complex organization and culture transformations
Greatly deepen your self-mastery and Personal Presence
Attend this free webinar to learn what 4Sight can do directly for you and your career.
Drs. Dean Anderson and Linda Ackerman Anderson, co-creators of 4
Sight and the authors of the cutting-edge books that introduced this new field of Conscious Change Leadership, will provide an overview of 4
Sight and answer all your questions.
Discover all the benefits and outcomes of attending 4Sight
Learn how you can join Being First's Guild and further your career in the change profession
Hear from past participants and the impacts 4Sight has had on them personally and professionally
Learn the topics, key learnings and design of the 4Sight program
Ask your questions directly to Dean and Linda to discover if 4Sight is right for you
Conscious Change Leadership, as taught in 4Sight, integrates deep personal, organization and culture
transformation.
INSTRUCTORS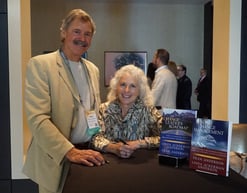 Drs. Dean
Anderson and Linda Ackerman Anderson, Co-creators of 4
Sight and Conscious Change Leadership